Toihau
Toihau members come together as rōpū kaiwhakahaere, combining their experience to bring holistic, integrated and pragmatic perspectives of te Ao Māori to influence the work of the NZAGRC.
Toihau co-develops and oversees the NZAGRC Māori Research Strategy and dedicated Māori research portfolio, as well as providing guidance to the NZAGRC on the relevance of its wider science programme to te Ao Māori.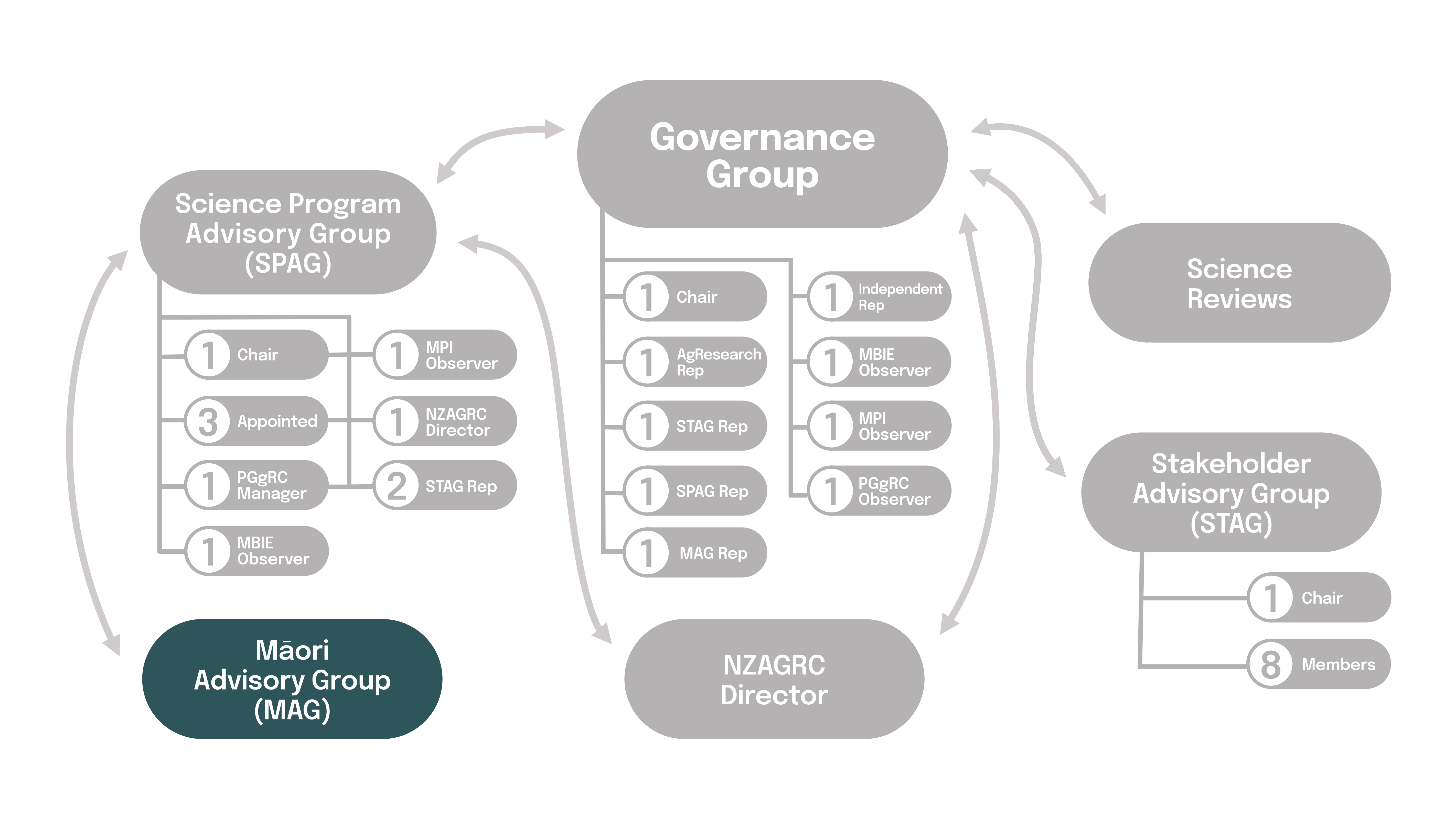 Membership
Toihau currently comprises five members nominated for their
Knowledge of and experience in working with owners of Māori freehold land and the Māori agribusiness community
Strong networks
Leadership and/or governance roles with Māori organisations
Knowledge of New Zealand's primary sector and/or relevant Government or science initiatives relevant to the NZAGRC
The Chair of Toihau is a member of the Governance Group. A member of Toihau also participates in the Science Programme Advisory Group.
Current membership
Chris
Koroheke (Ngāti Maniapoto, Ngāti Wai, Te Rarawa, Te Aupouri, Ngāti Tarāwhai)
Chris is AgResearch's Urungi Māori where he works to strengthen relationships across the Māori agribusiness sector. Chris has extensive experience building relationships with iwi at both central and local government levels, in both environmental and commercial areas.
Te Horipo
Karaitiana
Te Horipo has over 30 years' experience in a wide range of senior management, executive and governance roles in the Māori, community, private and public sectors. He is currently Chief Executive of Te Awanui Huka Pak Limited, a 100% Māori owned and operated kiwifruit collective in Tauranga.
Doug
Macredie (Te Arawa, Tainui)
Doug is Sector Capability Manager and Māori Agribusiness Manager at Beef + Lamb NZ. He has broad experience in a range of different training, innovation and managerial roles across the red meat and forestry sectors.
Claire
Nicholson (Ngāti Ruanui)
Claire has extensive expertise in veterinary science and animal health, rural marketing, business development, technical research and governance. She is also involved in several Māori agri-business ventures.
Charles
Taituha (Ngāti Maniapoto, Ngā Puhi)
Charles is an experienced Māori agri-business professional with a wealth of farming and broader primary sector knowledge.
Robyn
Meehan
Observer,
MPI
Robyn is the Director of MPI's Māori Agribusiness team where she works to develop mutually beneficial partnerships with Māori and deliver tailored support.
Neil
Dalphin
Observer,
MBIE
Neil is an investment manager from MBIE's Strategic Investments team working on the NZAGRC partnership. He is part of the group managing the Strategic Science Investment Fund (SSIF). Neil joined MBIE in mid-2020 after completing his PhD in neurophysiology in Japan.